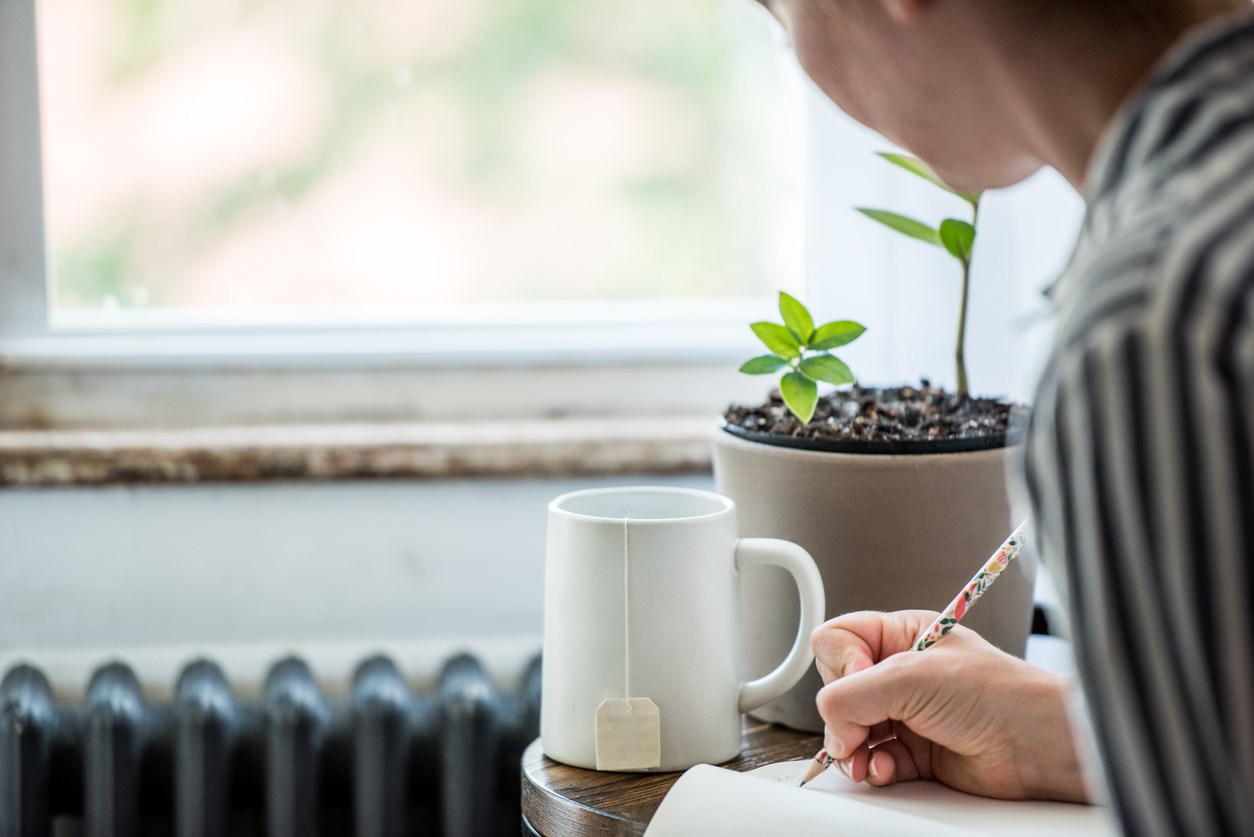 Here at TruSens, we know wellness matters. That's why we're bringing you 21 New Year's resolutions to add to your list for 2021.
1. Drinking More Water
Starting off with a relatively easy resolution you can implement this year: drinking more water. Staying hydrated is a simple yet effective wellness goal. While the goal is simple, the route you take to get there will depend on personal preferences.
Drinking more water can be accomplished using several methods. Some choose to purchase a reusable water bottle or larger bottle to encourage drinking water. Others use tracking apps or water bottles with measurements along the side for easy tracking.
2. Become a Plant Owner
Becoming a plant owner may be especially helpful to those of you living in locations with extreme weather. Extreme weather, either cold or hot, may cause many plants outdoors to die or render the plants unable to thrive in that location. Indoors however, the conditions are more controlled. When outdoor conditions are causing death or harm to outdoor greenery, you'll still be able to enjoy greenery of your own indoors.
3. Listen to Podcasts and Audio Books
For those of you that don't have the time to sit down and watch television or read a book, a podcast can accomplish similar goals while giving you the ability to multitask. Next time you're cleaning the house or working out, grab a speaker or headphones to connect to your smart device and listen a podcast or audio book.
There are so many genres of both podcasts and audio books that there's something for everyone. It can even be your opportunity to learn something new.
4. Volunteer
There are always organizations looking for additional volunteers. In order to make the most of your volunteer work, research which is a best fit for you.
5.  Sanitize Your Phone
For most, your phone is always at your side. While activities like washing your hands, doing laundry, and regularly showering is used to clean yourself, it is less common to think about cleaning your phone. This may mean trouble for those that touch their phone and then rub their eyes, talk on the phone with it held up to your face, or those who sleep next to their phones at night in bed.
Sanitizing your phone may depend on the type of phone you have. Some phones are water resistant while other are not. Refer to your phone's manufacturer's instructions before using a method of sanitization on your phone.
6. Eat More Whole Foods
Improving your wellbeing may include the incorporation of more whole foods in your diet. The new year is the perfect time to start fresh and take steps to do so. To accomplish this resolution, there are endless routes you can take. Whether it's by planning out your meals in advance, slowly making swaps, using an app, and more.
7. Gratitude Journal
It can be easy to get lost in the things going on day to day. Shifting your focus on the positives of your day, week, or month by using a gratitude journal. This type of journaling's purpose is to write down the positive things that occur and what you are grateful for in your life. Gratitude journals are what you make of them.
8. Give Yourself More Compliments
You may be used to giving others compliments, but what about yourself?  Giving yourself compliments throughout your day will help to motivate you and boost your mood.
9. Spend More Time Outdoors
Take the initiative to spend more time outdoors this new year. Soak up the sun and take a breath of fresh air. Your time spent outdoors can either consist of you simply standing or sitting outside or include an outdoor activity. Some activities will require other tools, such as rollerblading or biking, but others only require yourself, like walking.
10. Find Activities You Love That Make You Move
A common New Year's resolution that people make is to work out more. If you're not a fan of working out but are still looking to move more, there are many activities that can help you do so. Activities can either be indoors or outdoors. Activities may include hiking, biking, yoga, walking, or sports.
11. Reduced Screen Time
In today's world, you can easily find yourself surrounded by screens or looking at screens all day. While you may have little control over this if it is part of your job, in your personal life you can take measures to reduce this. Some electronics have time limits that can be set to your personal preference. If your devices do not have an automatic shut-down, you can also set a timer once you've reached the time limit.
12. Read a New Book
Take the time to find and read a new book this year. The vast number of genres leaves something for everyone. If you're looking to reduce screen time, as referenced in resolution number eleven, reading a book can help you accomplish this.
13. Get More Quality Sleep
Sleep can impact the mood that you are in. Getting quality sleep can help to start your day off right and possibly impact your entire mood and day. There are many suggestions on how to get the best quality sleep. Take time to research or consult a doctor to find the best solution for yourself.
14. Take More 'Me Time'
There are times where you may find yourself doing everything except for things you really want to do. This year take more time for yourself to do the things you love. Whether this consists of a spa day or a leisurely game of golf, it's important to take time for yourself throughout the year.
15. Learn a New Skill
If there is something that you have been meaning to try, take this new year to do so. This can be learning to cook, paint, or another skill. Resources are available everywhere whether it be from the internet, a book, a podcast, or class.
16. Explore New Hobbies
Learning a new skill may be about something you want to accomplish, but it can also be learning how to do something that you want to be a new hobby. If you already have hobbies you love and aren't looking for more, learn what else you can do for your current hobbies. This may include purchasing additional supplies or tools that you can use with your hobby.
17. Try Meditation or Yoga
There are plenty of apps or online resources to learn about meditation and yoga. Both activities have been shown to reduce stress and are therefore a great wellness resolution.
18. Organize a Space in Your Home
Having an unorganized or cluttered home can be overwhelming. Take it one space at a time. A new year can be the perfect time to get a schedule started for organizing each space. Depending on how unorganized or how large the spaces are, your schedule will need to be customized to you.
19. Donate Things You Don't Need
While you're organizing the space in your home, you may find that there are things you don't necessarily want or need to keep. Instead of throwing all the items away, save anything in good condition and donate it to those in need.
20. Take More Outdoor Walks
Taking walks in general can help to improve your overall wellness, walking outside comes with even more advantages. Being able to walk outside may be dependent on the weather in your location. If you do have the opportunity to walk outdoors, you'll be able to get in some sunlight, scenery, and outdoor air.
21. Cleaner Indoor Air
Air purifiers are at the heart of consistently cleaner air within your indoor space. Here at TruSens, we offer solutions to meet your air purification needs. These options range from TruSens Standard Air Purifiers to TruSens Smart Air Purifiers, and Specialty Filters for every size. Specialty Filters are offered in Allergy & Flu, Pet, and Odor.
Choose from our selection of TruSens Air Purifiers here and TruSens Specialty Filters here.
Summary
In summary, here are the 21 New Year's Resolutions to add to your list for 2021:
1. Drinking More Water
2. Become a Plant Owner
3. Listen to Podcasts and Audio Books
4. Volunteer
5. Sanitize Your Phone
6. Eat More Whole Foods
7. Gratitude Journal
8. Give Yourself More Compliments
9. Spend More Time Outdoors
10. Find Activities You Love That Make You Move
11. Reduced Screen Time
12. Read a New Book
13. Get More Quality Sleep
14. Take More 'Me Time'
15. Learn a New Skill
16. Explore New Hobbies
17. Try Meditation or Yoga
18. Organize a Space in Your Home
19. Donate Things You Don't Need
20. Take More Outdoor Walks
21. Cleaner Indoor Air