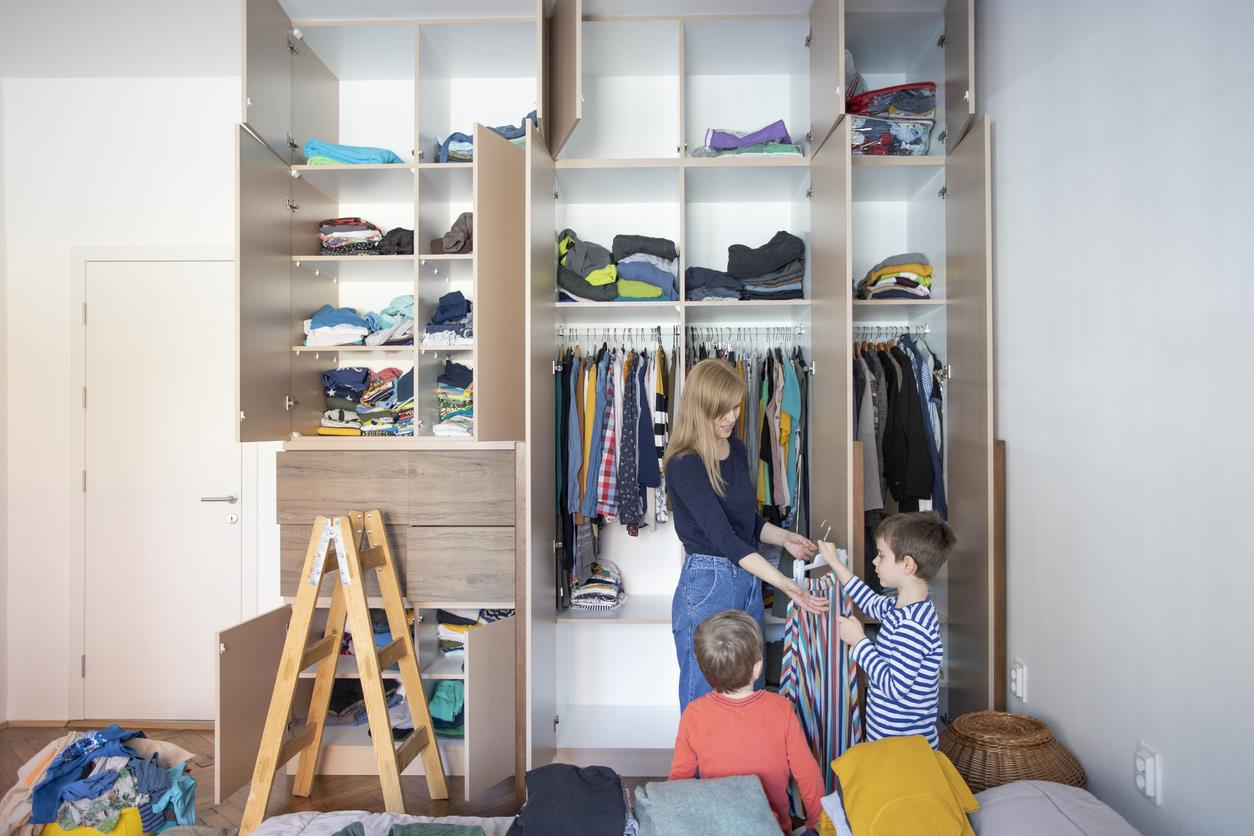 Closets are a great source of storage for any home, but their tight space and limited airflow can be cause for concentrated odors. A combination of stinky shoes, dirty clothes in a hamper, or musty-smelling fabrics stored in the closet combine to create a lingering odor that can seep through into the rest of your home.
In order to eliminate odors from your closet, we've created a five-step process listed below.
1. Remove Everything from the Closet.
The first step in eliminating odors from your closet is removing all the items currently being stored in that closet. Create two piles of items divided by fabrics and non-fabrics. This keeps everything organized for the other steps in the process.
2. Wash All Clothes, Shoes, Linens, and Other Fabrics.
In order to completely rid the closet of odors, wash all fabrics from the pile you have created, even if they are clean. The clean fabrics can absorb any lingering odors in the closet and should be washed to ensure elimination of all odor. All fabrics should be completely dried before storing in the closet. Damp fabrics, especially those stored in a closet, may lead to a musty scent.
Most shoes are not cleaned often, yet they can be the cause of many odors in the closet. The method used to clean the shoes will depend on the type of shoes and materials used. Use each manufacturer's instructions on how to properly clean and dry the shoes you own.
3. Clean the Inside of the Closet.
While the fabric items from the closet are being washed, deep clean the closet itself. Wipe down any hard surfaces, properly clean any other items stored in the closet, and vacuum or sweep the floor.
4. Use an Air Purifier.
Air purifiers help to distribute cleaner air to the space around them. While your closet is open and empty, turn on an air purifier to help eliminate odors from the air in and around the closet. TruSens offers a Specialty Odor Filter with three levels of filtration to defend against odors and reduce airborne volatile organic compounds (VOCs). Learn more about the Specialty Odor Filter by clicking here.
5. Reorganize to Optimize Space and Airflow.
Lack of space between items and airflow may be causing your closet to concentrate odors. Decluttering and reorganizing the remaining items will help this issue. Donate any clothes, shoes, or other items you no longer use. Store shoes on a shoe rack or in individual boxes for them to properly air out.
Summary
Whether your closet currently has odors or not, it's always a good idea to regularly clean and maintain each of the closets in your home. Use these five easy steps to continually prevent or eliminate odors from closets in your home.
Remove Everything from the Closet.
Wash All Clothes, Shoes, Linens, and Other Fabrics.
Clean the Inside of the Closet.
Use an Air Purifier.
Reorganize to Optimize Space.