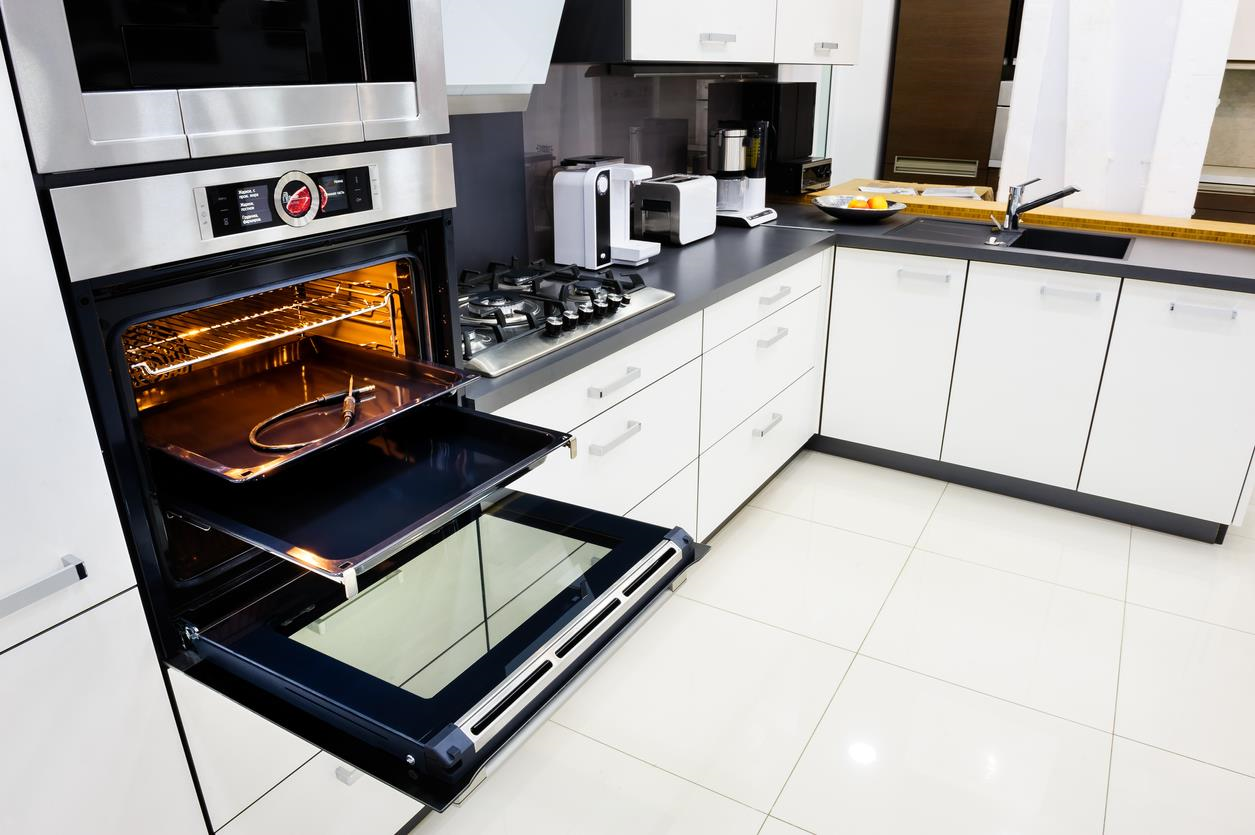 Whether you love or hate to cook, adding technology to your kitchen makes cooking easier. Cooking used to all be done by hand. Now, so many advancements have been made that almost every tool in your kitchen can be swapped out with a smart or automatic version.
It can be overwhelming to know where to start when turning your kitchen into a smart kitchen. In this article, we will show you more than 20 easy swaps you can make in your kitchen.
1. Air Purifier
The smell of freshly baked cookies is a smell you may never want to eliminate, but other kitchen odors can be foul. Whether it's burned food, garbage, broccoli steaming, or a myriad of other scents, an air purifier will help to remove the unwanted odors from your air.

Click here to learn more about TruSens air purifiers and specialty odor filter.
2. Smart Pressure Cooker or Slow Cooker
Pressure and slow cookers are incredible technological advancements, and now, they have been made into smart products for even more benefit. These new cookers can connect to your phone through an app which can track the timer on the cooker, search recipes, and more. Some cookers even come with a scale on the bottom to track the weight of the ingredients as you put them in.
3. Coffee Maker or Machine
While traditional at-home coffee makers have been around for a long time, newer ones come with more perks than ever. The features vary based on the brand and model, so it's important to know which benefit is most important to you.  Features of coffee makers today include a fast water heater, multiple cup size options, frothers, and more. Although these machines are often referred to as coffee makers or coffee machines, they can make a variety of beverages including hot or cold teas as well as hot chocolate, and in some cases, even iced coffee.
4. Automatic Pan Stirrer
An automatic pan stirrer will do exactly as the title suggests. When you're cooking multiple dishes at a time, it can be nearly impossible to stir each of them at the same time. With the automatic pot stirrer, the tool can do it for you.
The motor in the device allows for it to move freely around your pan, stirring the contents. This device can also be used if you simply don't feel like monitoring the dish closely and would like to multitask.
5. Automatic Hand Soap Dispenser
Most public restrooms have automatic soap dispenser, but did you know that you can have this in your home too? Automatic hand soap dispensers are great for when your hands are covered in food and you don't want it to get on the soap dispenser.
6. Smart Kitchen Scale
If you want to weigh ingredients for a recipe, the smart scale takes things to the next level. Smart scales connect to your smart devices, helping you make substitutes for ingredients and change portion sizes in real-time.
7. Smart Air Fryer
Smart air fryers connect to your smart phone to help you make tons of recipes and control the settings on the machine. Some of these machines also connect to your smart speaker so you can voice control the settings without touching anything.
8. Smart Drink Scale
While we already mentioned the smart kitchen scale for measuring ingredients for recipes, there is also a smart drink scale. This scale is perfect for the at-home bartenders. It helps to make cocktails that are perfectly measured every time.
9. Smart Blender
In addition to providing every function you would want out of a blender; smart blenders can connect to other smart devices. Typically, the smart blender will connect to your smart phone through an app provided by the brand of the blender. This app allows users to track grocery lists, nutritional information, and provides programs to make smoothies, nut butters, and other foods. These features vary based on the brand of blender you purchase.
10. Smart Toaster
A smart toaster can customize its settings to toast anything you need to your exact liking. Inside, are sensors so the toaster can monitor progress. Some are now available with a touchscreen to easily tailor toasting settings.
11. Smart Burner and Pan
This bundle allows you to connect burner and pan to each other so you never under or over cook anything on a burner again. The technology and sensors in the devices allow them to connect to each other and communicate.
12. Smart Microwave
Smart microwaves make it possible to voice control through a smart speaker. Simply tell your functional commands to the smart speaker and it will communicate cooking instructions to the microwave.
13. Smart Oven
Now you can start your oven without even touching it. Connect your smart oven to another smart device to easily manage controls. Features vary based on the brand of oven you purchase. The smart ovens that connect to your smart speaker allow you command it through the speaker, and the speaker will communicate the demands to the smart oven. Other smart ovens offer features like scanning products' barcodes to change settings to the products' instructions, use a recipe library through the app, and more.
14. Smart Refrigerator
Refrigerators have made advances many times over the years, adding ice makers or water dispensers. Today's refrigerators now offer tablets and smart connectivity. Features vary based on the brand and model refrigerator you purchase. These fridges can help make grocery shopping easier. Some come equipped with cameras inside to allow you to peek inside while you're at the grocery store to double check what you have and what you need. Some have voice controls that allow you to tell your refrigerator to add items to your grocery list it keeps for you. These smart fridges can also connect to other smart devices. Connecting your fridge to a smart speaker or video doorbell will allow you to use voice commands or see the live video feed of your doorbell from your fridge, assuming it faces the door. Some smart fridges use a glass window so you can see what's in your fridge without opening it and letting the cool air out. If it turns out you don't have groceries but don't want to go shopping, some smart fridges let you order food from food delivery apps.
15. Faucet
Even your faucet can be upgraded with new technologies. There are motion-censored and voice-activated faucets you can purchase for your kitchen sink. These faucets make it easier to wash your hands or dishes and prevent your faucet handle from getting dirty as quickly. The voice-activated faucets even allow you to specify the measurements of water that you need, so you don't have to use measuring cups for water ever again.
16. Ice Maker
Ice makers are a great tool for the kitchen, even if your refrigerator has an ice machine. The best use for these machines is when you're hosting people in your home. You'll never have to worry about running out of ice, forgetting to get ice at the store, or forgetting to stash ice from your maker in advance. When you're getting ready to have people over, simply run the machine to have an inventory of ice ready for everyone's drinks.
17. Electric Kettle
Boiling hot water has many uses from hot tea to instant mac and cheese. An electric kettle provides a simple and fast way to boil water. Avoid the process of turning on your stove's burner or re-microwaving the same cup of water until its boiling hot. Simply fill the electric kettle, plug it in, and wait a short amount of time for it to start boiling.
18. Vacuum Sealer
Vacuum sealers help to preserve food. Sealing food can be the solution to several issues, whether you want to make food in advance or in bulk due to a busy schedule, or the portion you made was too large to eat in time. You can also save money by stocking up when things are on sale, and not worry about freezer burn by vacuum sealing meats, etc. There are many ways to use a vacuum sealer, especially if you're want to cut down on food waste.
19. Smart Mugs with Temperature Control
Looking forward to a cup of tea or coffee only to discover it burns your tongue or has gone cold, is something you never have to experience again. Smart mugs with temperature control do exactly as their name implies. These mugs will control the temperature of your drink whether you're at home, in the office or on the go. The smart aspect of these mugs allows you to connect it to your smart phone. Through your smart phone, there are mugs that let you set the temperature of the mug, create presets and allow notifications to be sent to the mug. Some mugs also come with a charging station in the form of a coaster for the cup.
20. Touchless Kitchen Trash Can
Making food in the kitchen can get messy, whether you have flour or raw ingredients on your hands, you'll want to avoid getting it all over your kitchen. A touchless kitchen trashcan helps to avoid touching your cabinet or the top of the garbage can in order to throw something away. This also helps to keep things in your kitchen cleaner in general. The less things need to be touched or handled, the less you need to clean them off.
21. Smart Thermometer
Smart thermometers connect to your smart device for easy monitoring of the temperature of your dishes. There are thermometers available that can track the temperature of multiple dishes at once. This is extremely helpful when you are cooking multiple things at once, like on Thanksgiving.