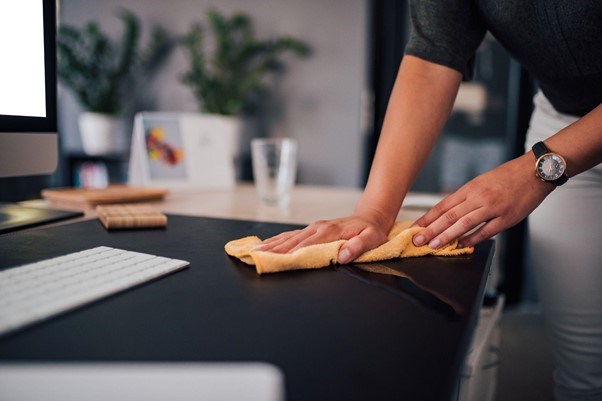 We've all felt the impacts of a team member being taken out of work by a seasonal cold, flu and more recently COVID-19  virus (SARS-CoV-2). Having a full and healthy team is essential to keep the wheels turning in every business. Across Australia, businesses are adjusting to a post-pandemic working arrangement, with employees moving between home and office. As many of us revert to face-to-face work, we have forgotten the simple but essential steps to take to keep sanitary when working in a communal environment.
And so, it's never been more important for businesses to implement a hygiene plan, taking regimented steps to help avoid the spread of airborne allergens and pollutants in the workplace. Below, we've pulled together some tips on how to help protect your personal workspace and office.
Clean Communal Areas Frequently
Establishing a strict cleaning roster for frequented communal areas helps not only keep your office looking good, but will help keep your employees safer. Bathrooms and kitchens tend to be the most active communal areas and wiping down these key surfaces before and after use may be something to pay attention to. Surfaces often overlooked but used frequently include doorknobs, cabinet handles, refrigerator or microwave door handles and microwave buttons, so don't forget these when you're on your cleaning round!
Don't Come to Work Sick
Pre-pandemic, many people still carried on heading into the office despite feeling under the weather. Nowadays, it's much less acceptable to attend work when you're sick. Nonetheless, it is important to drill into the work culture that coming into the office while sick is not on, for the sake of other employees, and for the sake of the sick person's recovery time—rest is important!
Be Careful with Communal Foods
Many workplaces are using communal food as an incentive to get employees to return to the office and while tempting, this can be tricky. Individually packaged foods are the best way to ensure the reduction of cross-contamination. Regularly sanitising the area in which communal food is being provided, as well as ensuring there is close access to a handwashing station can also help reduce the spreading of germs here.
Invest in an Air Purifier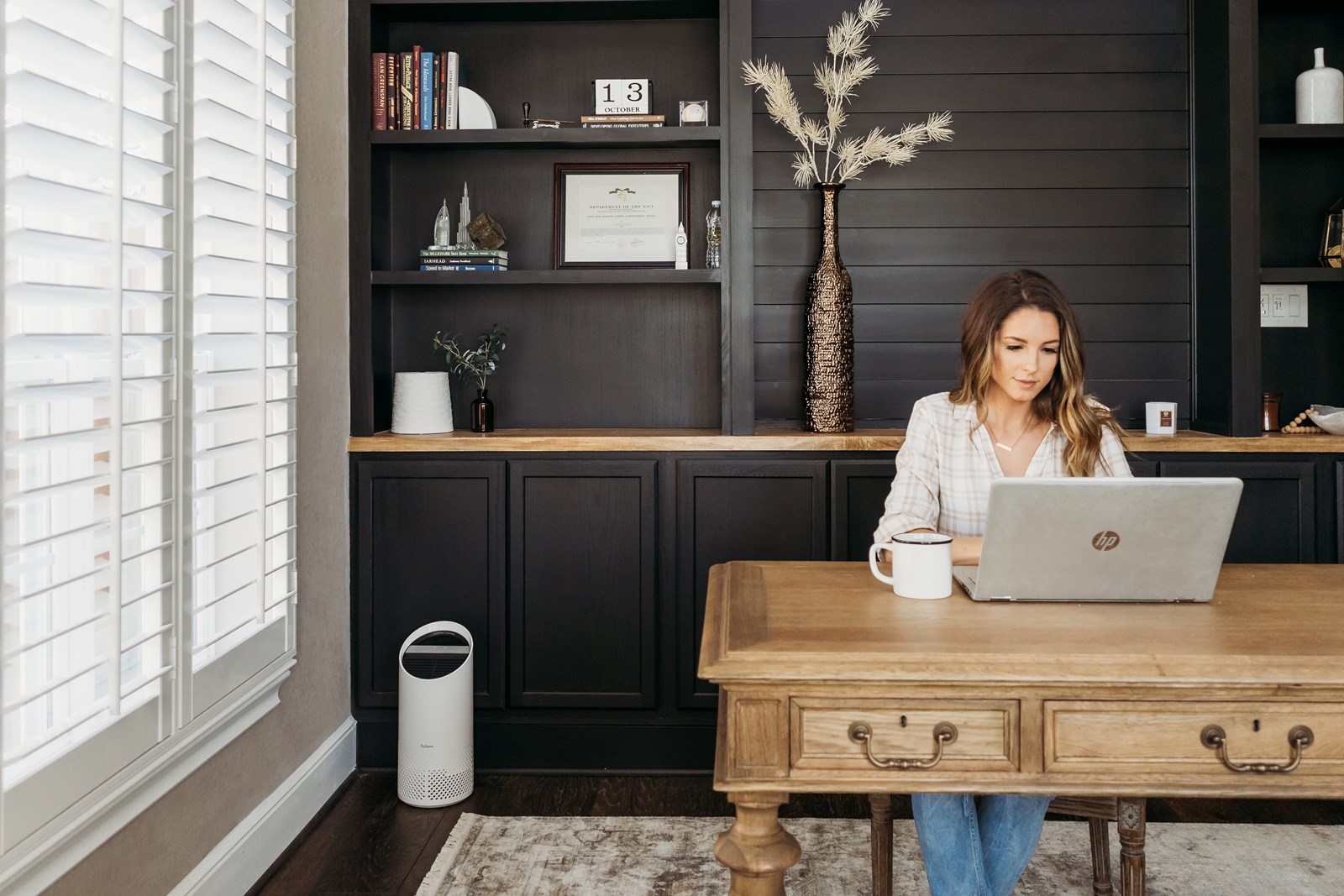 Generally speaking, office buildings don't have access to open windows to allow for airflow which means that air quality in this space can be compromised. Whether a person's work is done in a larger or smaller space, there is a potential for several types of air pollutants to be present in the air, even if the space appears 'clean' to the eye. Depending on the specific space, these pollutants may range from allergens such as dust, pollen, and mould to chemicals such as volatile organic compounds (VOCs) found in cleaning products or paint fumes.
Adding a TruSens Air Purifier within your office is a great way to keep the space hygienic with minimal effort. TruSens Air Purifiers were developed with both performance and design in mind. The award-winning design blends perfectly into any space, while the product's unique features go above and beyond the average air purifier. These features work together to reduce air pollutants in the space and deliver cleaner air to those present.
Features, such as PureDirect dual airflow and SensorPod remote air quality monitor, are unique to TruSens Air Purifiers. TruSens PureDirect dual airflow uses two streams to deliver purified air effectively throughout a room, and in some cases, has been proven to be up to 24% more efficient than traditional air purifiers with only a vertical airflow. The remote SensorPod air quality monitor senses pollutants across the room. TruSens Air Purifier reacts to the SensorPod reading and adapts to clean the air. During this, an LED display at the front of the air purifier alerts users to changes in air quality and a colour-coded ring with a number indicating that change.
Disinfecting and Deep-cleaning Desk Spaces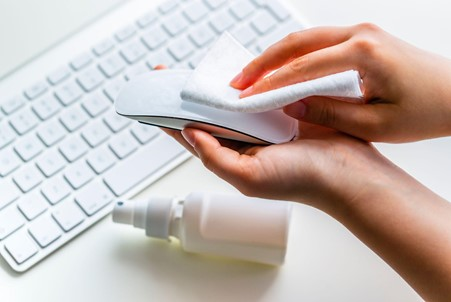 Desks can quickly build up a layer of dust, crumbs and germs. Each day at work we are constantly touching our desk, putting objects on it, and maybe on busier days, eating at it. No matter what you do at your desk, it is important to get into a good habit of regularly cleaning it off with a surface disinfectant. When cleaning your desk, don't overlook your keyboard and mouse, two peripherals that are frequently touched and can quickly accumulate dirt and oil within crevices.
In conclusion, maintaining a clean and sanitised workspace is key to keeping you, and your employees' health and safety in check, even more so as we move into the thick of the cold and flu season. Along with implementing good cleaning practices, investing in a quality air purifying system can make all the difference to your face-to-face working model.