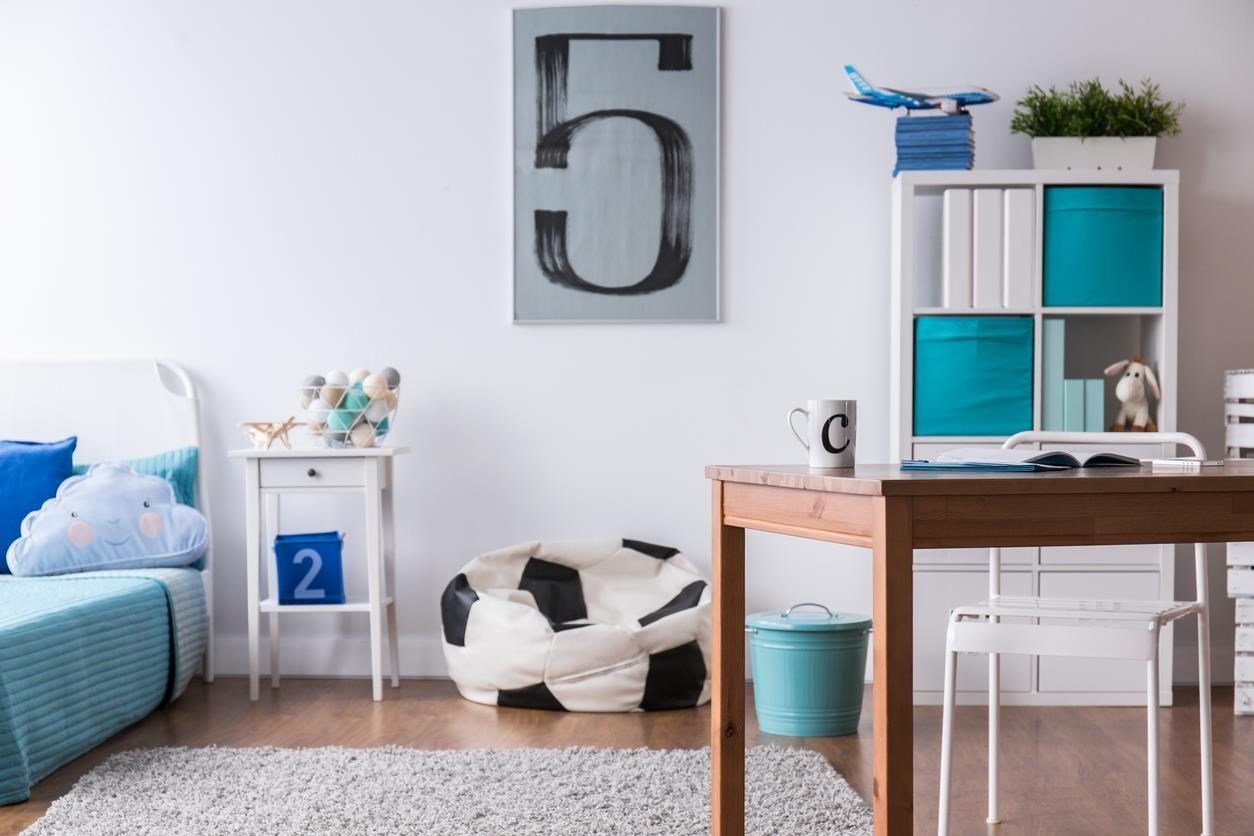 The smells kids leave in your home change based on their age. Those smells seem to gather in their room where all their things can be found. From dirty diapers to socks, there are solutions for parents looking to take control of the smells coming their kids' room.
Tips to Keep Your Kid's Room Smelling Fresh
Keeping your kid's room smelling fresh takes more than just masking scent with fragrance sprays or wall plug-ins. Instead, stop the smells at the source to continually manage and eliminate smells from your kid's room. Below are ten tips for managing possible odors in your kid's room.
1. Keep the Laundry Hamper Closed
Hampers are where we all store our dirty clothes until we wash them. These clothes may be causing odors in your kid's room if left uncovered. Instead of purchasing open hampers, opt for one with a lid. Closing the lid of the hamper will help to prevent the odors of dirty clothes taking over the room.
2. Manage Sporting Equipment
If you've ever played a sport or been near someone after they played a sport, you know that there can be a strong scent of body odor afterwards. Even worse, during the longevity of the sport, all the equipment soaks up dirt, sweat, and odor.
To avoid these smells tracking throughout the house and taking up residence in your kid's room, keep the equipment in a designated area. Depending on your amount of space, the best places to store sporting equipment are in your mud room or garage.
Wash the sporting equipment after each use if applicable. Regularly soak or use specialty detergents made for odor on items that hold onto scents longer. Doing so will help to prevent odors from staying in the fabric.
3. Take Out the Trash
If your kid has a trash can in his or her room, make the effort to regularly remove the trash from their room. Like the laundry hamper, purchase a trash can with a lid to contain the smells.
4. Mattress covers
Kids are good at making messes and mattresses are difficult to clean. Mattress covers make it easier to keep kids' beds clean. These covers help protect the mattress from soaking up sweat, drool, snot, bedwetting, and other things that create odors.  
5. Wash Bedding Once a Week
Mattress covers may protect the mattress from soaking up everything, but there's nothing to protect the rest of the bedding. Bedding should be washed regularly each week. Between sweat, drool, snot, bedwetting, dirt, and other things that kids bring to bed with them, bedding needs to be laundered more often than most people think.
Additionally, showering before bed may help to reduce the amount of dirt they bring with them, but it does not stop everything else that can occur while sleeping.
6. Open Windows
Opening windows provides a natural method of ventilation for any odors in your kid's room. Using windows as ventilation is better than opening the bedroom door since the door will only ventilate the odors into the rest of the house. This method may be dependent on the outdoor weather and whether the air conditioning or heating is on.
7. Make Use of a Dehumidifier and Fan
Preventing moisture will help to eliminate any smells from its buildup. Moisture may trap odors or lead to musty smells in your kid's clothing or toys. The easiest way to keep the room dry and air circulating is by using a dehumidifier and a fan.
Keeping moisture and humidity levels low will also help to prevent the growth of mold and mildew that can cause smells, allergies and other symptoms.
8. Trade Carpets for Hard Surfaces
While regular vacuuming can help to remove larger dust particles or hair, liquids and odor can easily absorb into the carpet. Replacing the carpet for a hard surface like hardwood floors or laminate will make for an easier clean-up and reduce any odors trapped in carpeting.
If you're looking for something to keep your kid's feet warm, consider a rug. Depending on its size, it can still cover a large area of the room but will be easier to clean if it can be thoroughly washed in a washing machine.
9. Implement a No Food and Drink Rule
Eliminating the consumption of food and drink in your kid's room will prevent them from spilling, dropping crumbs, or leaving food in their room to go bad. Food and drinks have the potential to attract bugs or go bad fast, leaving foul odors. Keeping food and drink in the kitchen will prevent any of these situations.
10. Clean Out Closets
Asking your kids to clean their room may include less organizing and more shoving everything into drawers, under their beds, or in their closets. While shoving everything into the closet may make the rest of the room appear clean, the closets need to be cleaned too.
Check closets for any stinky shoes. If their shoes are emitting odors, look up directions on how to clean that specific pair. Avoid storing shoes in the closet. Closets don't allow for any air flow to air out shoes. Instead, store shoes in a garage or mudroom.
11. Clean Their Room Where They Can't
Depending on the age of your kid, there may be places they can't reach, cleaning chemicals you don't want them using, and a lack of knowledge or ability to use a vacuum or broom. If this applies to your kid, you may want to do any cleaning that they can't.
Hard to reach places may include ceiling fan blades, the tops of furniture, and windows. Cleaning chemicals may be used to clean any mirrors, windows, and hard surfaces. Depending on the type of flooring in their room, you will need to use a vacuum, broom, wood cleaner, or any other product meant for your floor type.
12. Avoid Pets in the Bedroom
If your pets are mobile, like a dog or cat, it may be impossible to eliminate their presence in rooms. For other non-mobile pets, like hamsters, fish, or turtles, it is best to keep them out of the bedroom. Pets and their living environment can begin to smell, especially if not properly taken care of. Whatever room your pet stays in should be properly ventilated, and any animal in a contained space, such as a cage should be cleaned often. Smaller rooms allow for any smells to build up quicker and become stronger.
13. Use an Air Purifier
Some odors are easier to manage than others. Due to this, there may always be odor lingering in the room. While most of these odors are contained in a kid's bedroom, opening the door to the rest of the home may release them, infiltrating the rest of the home.
Using an air purifier in your kid's room will help to eliminate odors right where they originate. TruSens air purifiers make use of an active carbon filter to reduce the presence of odors and gases commonly found in indoor air. TruSens also offers a specialty odor filter that was engineered to eliminate odors.