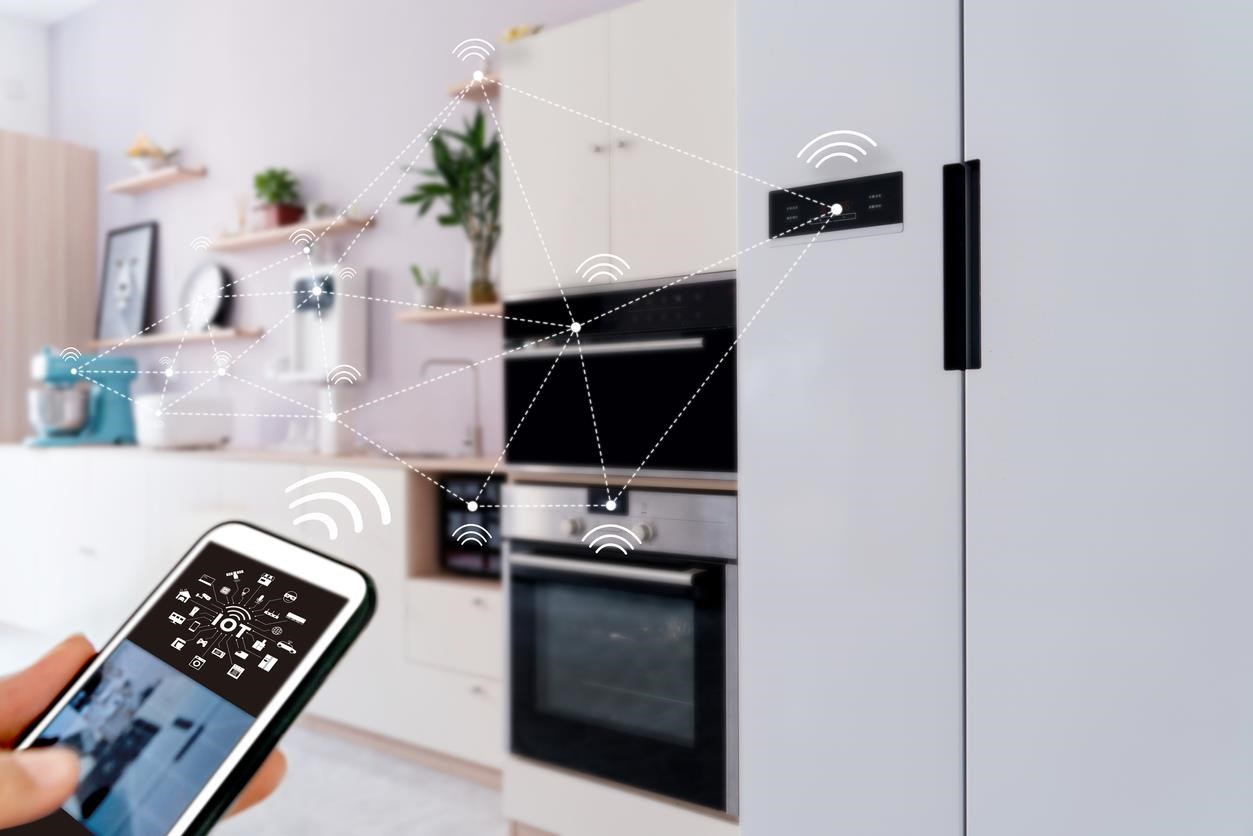 Owning a home is a big responsibility, and homeowners face many challenges. In recent years, technology's reach has expanded, and impacts many everyday household items. These technological advances help to make the average homeowner's life simpler. From lights that can be controlled without getting out of bed to robots that do chores for you, there's a tech gift for every homeowner out there.
1. Air Purifier
Air purifiers meet the needs of many types of homeowners. For homeowners that suffer from allergies, an air purifier helps to capture allergens such as dust, mold, and pollen. For homes with furry friends, air purifiers help to reduce pet dander, hair, and eliminate pet odors. Often, there are airborne gases in our homes from cleaning supply chemicals or paint fumes. Air purifiers can help to reduce both the airborne gases and odors from the home's air.
TruSens Air Purifiers are offered in both standard and smart models. The TruSens Smart Air Purifiers are Wi-Fi® enabled and compatible with a TruSens mobile app and Alexa device voice commands. Functions provide the homeowners the ability to control his or her indoor air from wherever they are.
Click here to see why a TruSens Air Purifier is the right choice for any homeowner.
2. Smart Plugs
The features on smart plugs help ease homeowners' minds in several situations. Leaving your home and having that did-I-leave-it-on moment is never fun. Using smart plugs allows users to "unplug" anything without physically unplugging it. So, if a homeowner leaves the house and isn't sure a flat iron or television was turned off, a smart plug ensures it is.
Additionally, the scheduling feature on smart plugs lets users determine when they want the plug, and anything plugged into it, to be on or off. This is helpful for both everyday use and when no one is home. With a set schedule, users can tell the plugs to turn on or off around their daily routines. For example, if they wake up at 7am, the smart plug can be set to turn on their lamp at 7am. This is also useful for when the homeowner is on vacation. To make it appear like people are present to ward off intruders, they can set certain lights, televisions, or other devices to turn on and off on a schedule.
Since the plugs are smart technology, they can connect to other smart devices to be controlled and monitored through a smart phone, laptop, or speaker.
3. Smart Lights or Light Switch
While the smart plug previously mentioned can control some lights, it is limited to any lights that are plugged in. Smart lights and light switches control the lights in the home directly. Both technologies have the capability to be controlled by another smart device through an app or voice control.
4. Smart Indoor Garden
Smart indoor gardens make it easier than ever to have a personal garden in a home. There are many difficulties to having a traditional garden that are avoidable by using a smart indoor garden. Weather can't be controlled, and certain plants can only thrive under specific conditions. For those that live somewhere that gets too hot, too cold, rains too much or too little, or simply doesn't have the conditions needed, smart gardens can help.
5. Smart Thermostat
Controlling the temperature is now made simpler than ever. Smart thermostats give homeowners the ability to control all temperature features from a smart device. One of the great things about "smart" technology, is that it learns. So a smart thermostat can get to know the homeowner's schedule and will program itself accordingly, so the temperature in the home is always spot-on. This is especially helpful for those who like to change the temperature from daytime to nighttime. These thermostats can also provide information on the weather is, so homeowners are able to set the thermostat accordingly.
6. Robot Vacuum
The cleaning that needs to be done seems endless. Thankfully, some of the work can be done by robots. The main, and most obvious, feature on a robot vacuum is that it can vacuum the house itself. It can also connect to another smart device. These vacuums can be put on a schedule based on when the homeowner would like them to vacuum, empty themselves out, fit under furniture, and follow customized cleaning maps around the home. Some are also a 2-in-1 cleaning product, with the ability to both vacuum and mop.
7. Robot Lawn Mower
You may have heard of robot vacuums before, as they are quite popular, but have you heard of a robot lawn mower? These two products are essentially the same concept, except one will vacuum the floors indoors and the other will mow the lawn.
Robot lawn mowers are powered by a rechargeable battery, making them super quiet, a feature that both you and your neighbors can enjoy. In addition to mowing your lawn, these robots can be connected to your smart phone so you can schedule when you want the mower to run, and locate your mower using GPS, Wi-Fi, or Bluetooth.
8. Projector
Projectors can improve any movie night, making homeowners feel like they're at a movie theater without leaving the comfort of their homes. Projectors are great for both indoor and outdoor movie watching. All they need is a blank wall or sheet to act as the movie screen.
9. Digital Picture Frame
Choosing the best pictures to put around your home can be a difficult task. If you're indecisive on which pictures to hang, have too many favorites, or want to always have the latest photos hung without the hassle, a digital picture frame is a great solution.
These frames can save you both time and money. Stop debating on which photos to select and paying to have them printed out. Instead, choose a collection of all your favorites and connect them to your smart picture frame for free.
10. Smart Television
The age of digital streaming is upon us. A smart television allows users to connect to their internet and log into their streaming services.
11. Streaming Stick or Box
If you're looking to give the homeowner in your life the ability to stream on their TV without breaking the bank, a streaming stick or box is the perfect gift. As streaming has grown in popularity, the variety of brands that provide streaming sticks or boxes has increased. It is recommended that if you have one of the streaming devices or another type of smart device from a company already, you should stick with that brand for easier connectivity. 
12. Smart Speaker
A smart speaker is a less expensive version of a personal assistant. While it can't walk the dog or put kids to bed, it can help grocery shop, cook, send calendar notifications, and more. One of the features that stands out the most in every smart speaker is that users can ask it questions just like a search engine. These questions include asking about for the weather forecast, the definition of a word, or find a recipe to cook for dinner. These speakers can connect and control other smart devices, like smart lights, smart phones, or smart air purifiers.
13. Video Doorbell
Video doorbells have grown in popularity in recent years. While their main purpose is to provide live video footage so homeowners can see who's at the door before opening it, its video capabilities have other benefits. With video doorbells, homeowners have had the opportunity to catch funny moments, package stealers, or sneaky kids on video.
The video doorbells also provide two-way audio so homeowners can also hear what's going on or speak to whoever is at their door. Some are "smart", even providing face recognition.
14. Touchless Trash Can
Touchless kitchen trash cans make throwing things away even easier. The features of these trash cans help homeowners when their hands are full or dirty. When your hands are full, with everything carefully balanced, the last thing you want to do is put everything down to throw something away. In the kitchen, your hands can end up dirty while you're cooking. It can be a pain to go interrupt cooking to wash your hands in order to avoid getting bacteria, grease, or food on your trash can.
In order to be touchless, some trash cans have motion sensors and other have voice commands. Whichever method you choose, both will get the job done.
15. Smart Scale
Instead of keeping track of measurements manually, smart scales will track and record the history on a connected smart device. Some scales can connect to a smart watch so you can have all your workouts and weigh-ins tracked together.
Summary
Home technology is made with the purpose of making people's lives easier. With the vast amount of home technology available now, there are options for every person in your life.
In summary, home technology gifts best we love this year are the following:
2. Smart Plugs
3. Smart Lights or Light Switch
4. Smart Indoor Garden
5. Smart Thermostat
6. Robot Vacuum
7. Robot Lawn Mower
8. Projector
9. Digital Picture Frame
10. Smart Television
11. Streaming Stick or Box
12. Smart Speaker
13. Video Doorbell
14. Touchless Trash Can
15. Smart Scale