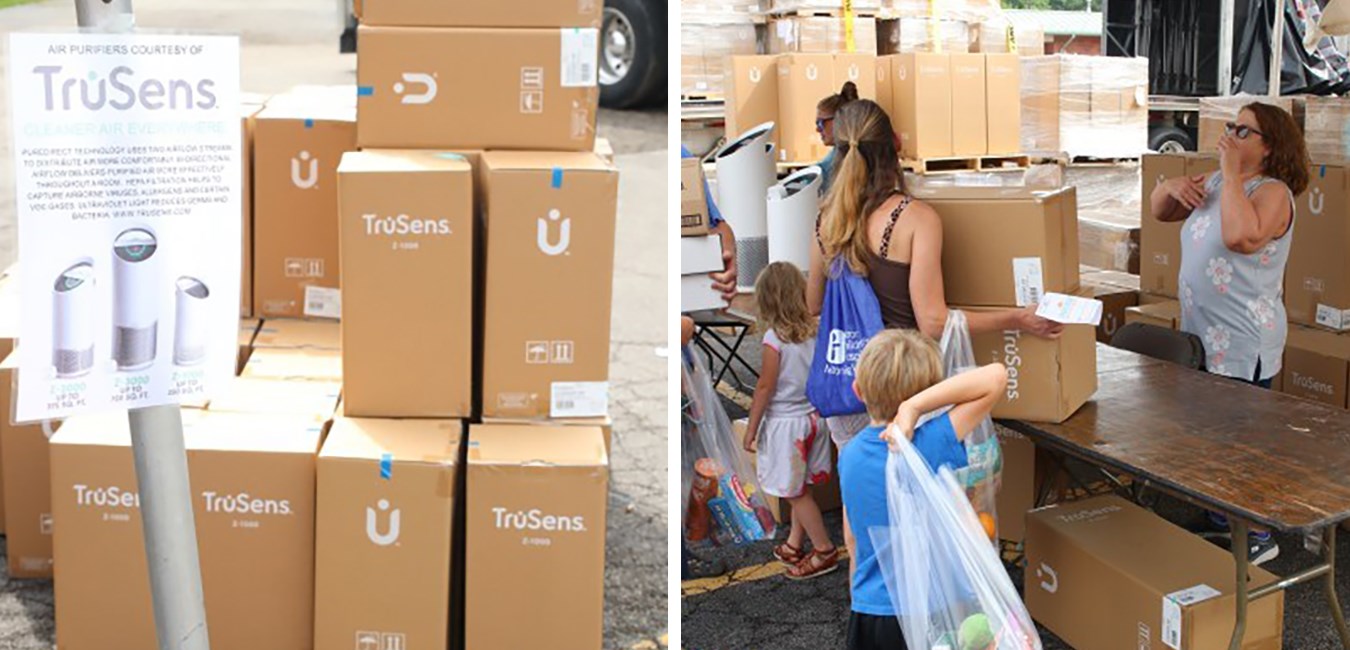 Families across East Palestine, OH now have access to cleaner indoor air thanks to a generous donation of TruSens® Air Purifiers from ACCO Brands. The donation of close to 600 air purifiers was made to The Brightside Project, a non-profit for underserved families in northeast Ohio. The organization held a "Health & Wellness Give Away" donation event on July 1, where the TruSens Air Purifiers were distributed to the residents of East Palestine, Ohio. The event was focused on helping local families who were affected by the widely publicized train derailment, and subsequent fires, that occurred earlier this year which released hazardous materials into the surrounding environment. Thanks to this giveaway partnership with The Brightside Project, those families can breathe easier.
The Brightside Project, founded in 2016 by a father-daughter duo, has already reached nearly 10,000 children across Columbiana County in just a few years. The organization works tirelessly to provide children and families with the resources they need to thrive and grow. "We were thrilled to be back in East Palestine with some helpful supplies for the community," shared Scott Lewis, Founder & Executive Director of The Brightside Project. "The donation from ACCO Brands of the TruSens Air Purifiers was a big blessing and provided a sense of comfort to the East Palestine community members who attended our event on July 1."
ACCO Brands is dedicated to aiding its customers' everyday wellness journey and making their needs a top priority. Providing these air purifiers will allow families who are still suffering poor air quality to create a cleaner environment within their homes. Providing communities with wellness solutions has always been the mission, and it is also why this is not the first time ACCO Brands has donated its TruSens products to those in need. The company donated over 100 air purifiers to schools in New York during the height of the Covid-19 Pandemic.
ACCO Brands could not be more pleased to have partnered with the wonderful people at The Brightside Project to make sure their products were delivered to underserved families. "ACCO Brands is honored to donate these TruSens Air Purifiers to the residents in and around East Palestine, OH. It is an embodiment of our brand's dedication to ensuring cleaner indoor air quality for all," said Matt Smith, ACCO Brands Vice President, Work, Wellness & Growth Enablement. "We extend our heartfelt gratitude to the incredible individuals at The Brightside Project for their partnership and tireless efforts in overseeing the delivery of this donation to those who need it most."
If you would like to donate to The Brightside project as well, you may do so here.