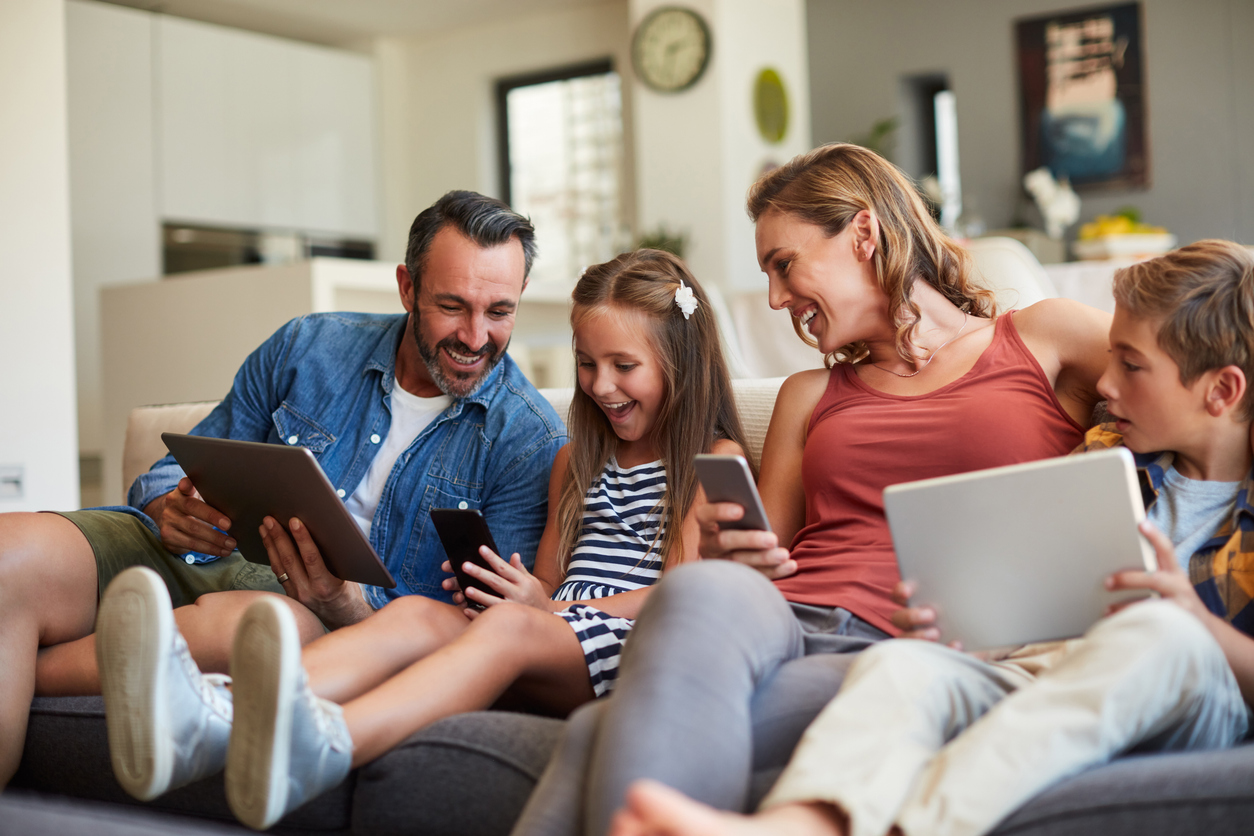 Mother's Day gives all of us the opportunity to show the moms in our lives a little extra love and gratitude. For many of us, this means trying to find the perfect gift for her. Whether the mom you're buying for is into fitness, reading, or just deserves a break from cleaning, there's a tech gift out there to benefit her. The best gifts to get this Mother's Day are the ones that will help make life a little simpler.
Home Gadgets
1. Air purifier.
An air purifier is a great addition to any home. This gift has benefits that any mom would enjoy. By filtering out dust, allergens, odors, pet dander, and other airborne pollutants, mom can relax knowing that the indoor air quality is taken care of.
2. Smart frame.
Can't decide which picture mom would love to display? Thankfully, smart frames let you choose more than one picture and they can be updated without needing to print and pick up physical pictures from a store.
3. A robot vacuum cleaner.
A robot vacuum cleaner is the gift that keeps on giving. These vacuums will give mom a little more time to do what she wants, while it cleans for her.
4. Bluetooth speaker.
Bluetooth speakers can be used for any number of activities mom loves to do. Whether she wants to jam out in the shower or listen to a podcast while cooking, a Bluetooth speaker makes connecting to her preferred playlists easy.
5. Smart lights.
Connect smart lights to another smart device and turn them on and off without lifting a finger. Better yet, we recommend installing it in her bedroom, so she doesn't have to get up to turn off the lights before bedtime.
6. Video doorbell.
As online ordering increases so does the number of packages being stolen off porches. Give mom some peace of mind when it comes to what she's ordering throughout the year and set up a video doorbell.
Health and Fitness Gadgets
1. Smart watch.
Whether the mom you're buying for is into fitness, needs an easy way to check messages, or just wants to know the time, a smart watch is the perfect gift. Smart watches have gained popularity in recent years creating more options than ever. Find which watch is best suited to pair with mom's phone and lifestyle to customize this gift to her.
2. Wireless headphones.
Listening to music while on a run, weightlifting or yoga is hard to do with pesky wires in the way. Wireless headphones let mom to do whatever exercise she wants without the worry of getting tangled in headphone wires.
3. Smart scale.
For the health and fitness-obsessed moms, there are smart scales that connect to their devices to keep track of everything, so she doesn't have to. Not only will it track everything she wants to know, but some let users set goals to align with their results.
4. Smart mat.
Ditch the old yoga mat and make room for smart mats. Smart mats connect to mom's devices and give real-time feedback on their yoga practice. Ideal for any level of yogi, she can adjust the settings to fit her needs.
Kitchen Gadgets
1. Mug warmer / Smart mug.
Whether mom drinks coffee or tea, a mug warmer or smart mug keeps her drink at a temperature of choice. With this gift, she'll never have to worry about her drink getting cold or having to warm it back up.
2. Espresso machine.
Sometimes moms need an extra boost of energy. It's common to have a dedicated coffee maker in the house, but does she own an espresso machine yet? Take things to the next level with this gift.
3. Voice-activated trash can.
Give mom an extra hand in the kitchen. A smart trash can opens at the sound of your voice making throwing away trash during cooking or cleaning easy and efficient. It's the little things that make life easier!
Reading Gadgets
1. An eBook reader.
An eBook is the perfect gift for the mom who loves to read! The slim design makes it easier to take with her when she's on the go. Some are even waterproof for the perfect companion while she's relaxing in a bath or sitting by the pool.
2. Bathtub caddy.
Bathtub caddies give mom a safe space to put her book down, that isn't the bathroom floor. These caddies are typically large enough to fit more than just a book, leaving room for snacks and a beverage.
Beauty and Skincare Gadgets
1. Makeup brush cleaner.
Cleaning brushes is an important part of any makeup guru's life. And it can be tedious. Give mom a helping hand so she can keep her makeup tools clean and ready for use.
2. Mini fridge.
No, not the mini fridge you would bring to college or use for beverage storage. Many skincare products instruct users to store it in a room temperature environment, and that can be a challenge in a steamy bathroom. For moms who take their skincare seriously, they will appreciate this device to keep their product safe.
3. Light-up mirror.
Moms deserve to see themselves in the best possible light! Perfect for hair styling, applying makeup and other skincare routines, mom will love having her own lighted area to primp so she can look her best.
Scrapbooking Gadgets
1. New digital camera.
If your scrapbooking-mom is working with an old camera or cell phone, this is the perfect time to give them an upgrade. And better looking photos means better looking scrapbooks!
2. Photo printer.
A convenient option for the mom who scrapbooks or loves to display pictures. From budget photo printers to portable devices, she'll have a way to print out all her favorites.
3. External hard drive.
It's always good to have a back-up plan! Whether your mom likes to take tons of photos, keeps a journal on her computer or organizes important papers digitally, her files will always be safe.
4. A scanner.
An easy tool for mom to quickly scan photos, images, documents and so much more from the comfort of home. She can share scrapbooks, pictures and other memories with friends and family.
Gardening Gadgets
1. Indoor smart garden.
For a garden to flourish, each plant has a specific amount of sunlight and water it needs. Smart gardens include features like lights and misters that require less work for mom.
2. Garden camera.
The perfect gardening assistant for mom! A garden camera monitors plants for you so there's no need to constantly be checking on them. 
3. Robot lawn mower.
Much like a robot vacuum, the robot lawn mower cuts the grass!  Enough said.
Other Gadgets
1. Key finder.
Do you sometimes hear, "Where are my keys?!" floating through the house? This solves that problem. With tons to choose from on the market, find the one that best suits the mom you love.
2. Neck and back massagers.
Time huddled over a computer, exercising and other physical activity can cause sore muscles. And a spa day can be a big splurge! Give mom the experience of an at-home massage with a neck or back massager. It's a gift that'll hit the spot!
We hope these ideas help you find the best gift for the mom in your life. But, remember, while gifts are nice, a big hug or a nice gesture can go a long way.