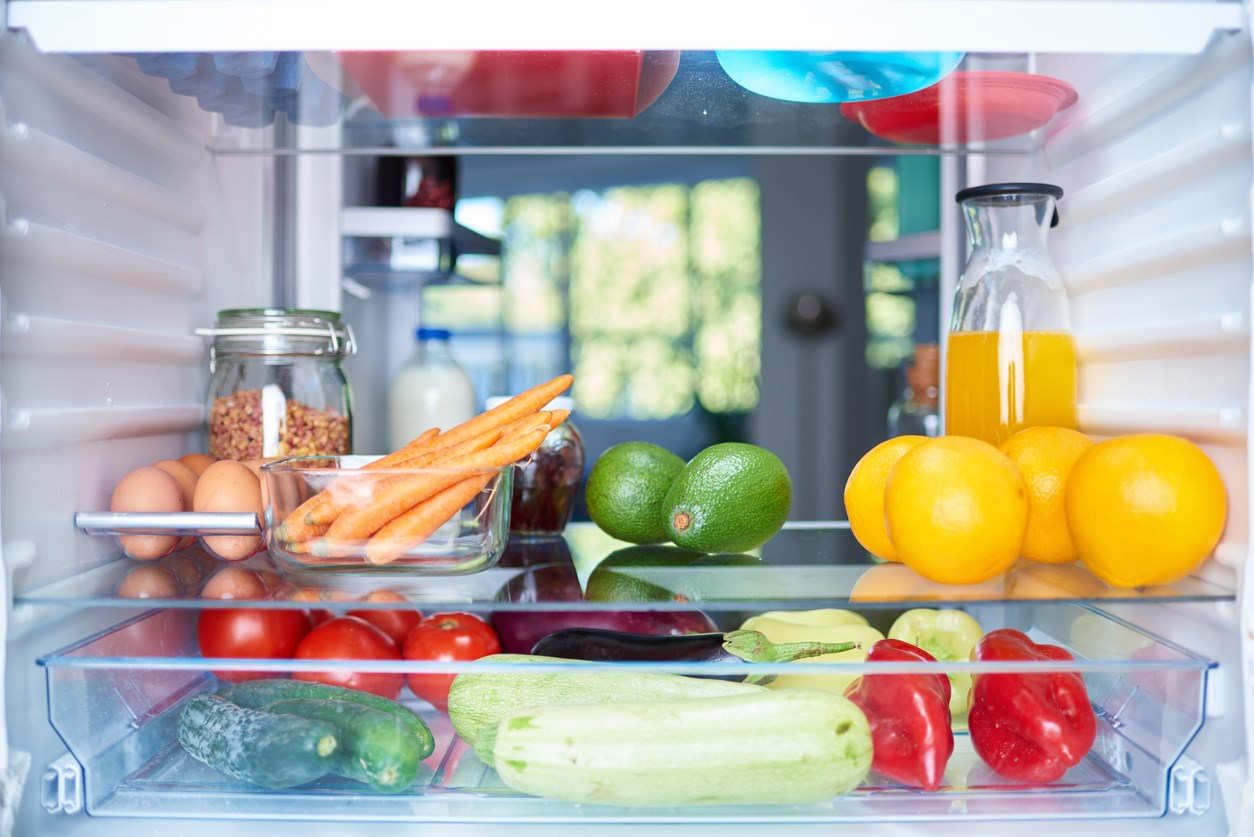 The refrigerator is a key component of any kitchen. Over time, the foods stored inside the fridge can spill or expire. This can leave your fridge dirty, smelly, and a poor location for the foods that you want to enjoy in the future. Due to this, your fridge should be cleaned regularly.  
Designate a

 Clean, 

Open Surface
In order to do a deep cleaning of the fridge, the contents must be removed. However, those contents will need a new home while they are displaced from the fridge. If your counters are filled, clear them off, and if you do not have enough counter space, find another surface like a table that the food can be put on. You may even want to place items on a towel, as many of them may be wet or sticky and will need to be wiped off before being replaced into your clean refrigerator.  
Empty the Fridge 
Emptying the fridge can be done in sections or all at once. If you are removing all the contents at once, ensure that nothing is left out of the fridge for too long. Use a cooler to keep food cold if you think you might take a fair amount of time and you don't want to worry. When removing items or shelving, spills can fall onto the lower shelves or into drawers. If you are choosing to remove items and clean the fridge by section, start at the top and work your way down.  
Deep Clean the Fridge Itself 
Once the items have been removed from the fridge, clean the shelves or drawers where the items were stored. The method of cleaning will depend on your fridge. Any piece that can be easily taken apart and put back together, should be washed and dried. Once the pieces are clean, be sure that the spot where it belongs is likewise clean and completely dry before reassembling.  
Run an Air Purifier 
This will most likely be the longest period of time that your fridge doors remain open. Eliminate any odors coming from your fridge while distributing clean air back into the area by using an air purifier. TruSens Air Purifiers and Specialty Odor Filters defend against odors and reduce airborne VOCs that could be released from specific cleaning products.  
Clean and Organize

 the Contents 
There's no point in the work you have done to clean the fridge if you add expired or spilled items back into it. Take this time to throw away any expired items and wipe off the outside of any items that have been spilled or are wet or grimy. This is also a great opportunity to transfer any items that have been spilled into a container that is more spill-proof. Once this is done, organize the items functionally in your fridge. This may mean having designated spaces for produce versus cheeses, keeping condiments on the doors, or any other way that best fits your lifestyle. Remember that the door is the least chilly, so be sure to store items that must stay coldest in the body of your fridge. 
Wipe Down the Outside 
After the inside of the fridge has been cleaned and the contents are organized and put away, it is time to clean the outside. Again, the type of material the outside of your fridge is made of will affect the way that you clean it. The proper method of cleaning for a stainless-steel fridge will be different from one that is made of plastic.  
Summary
In summary, it is important to regularly clean your fridge. In addition to having a clean and organized fridge, it will help to prevent or eliminate any odors that will release into your kitchen each time the fridge is opened. Below are the steps to take each time you clean your fridge.  
Designate an Open Surface

 

Empty the Fridge 

 

Deep Clean the Fridge Itself 

 

Run an Air Purifier 

 

Clean and Organize the Contents 

 

Wipe Down the Outside