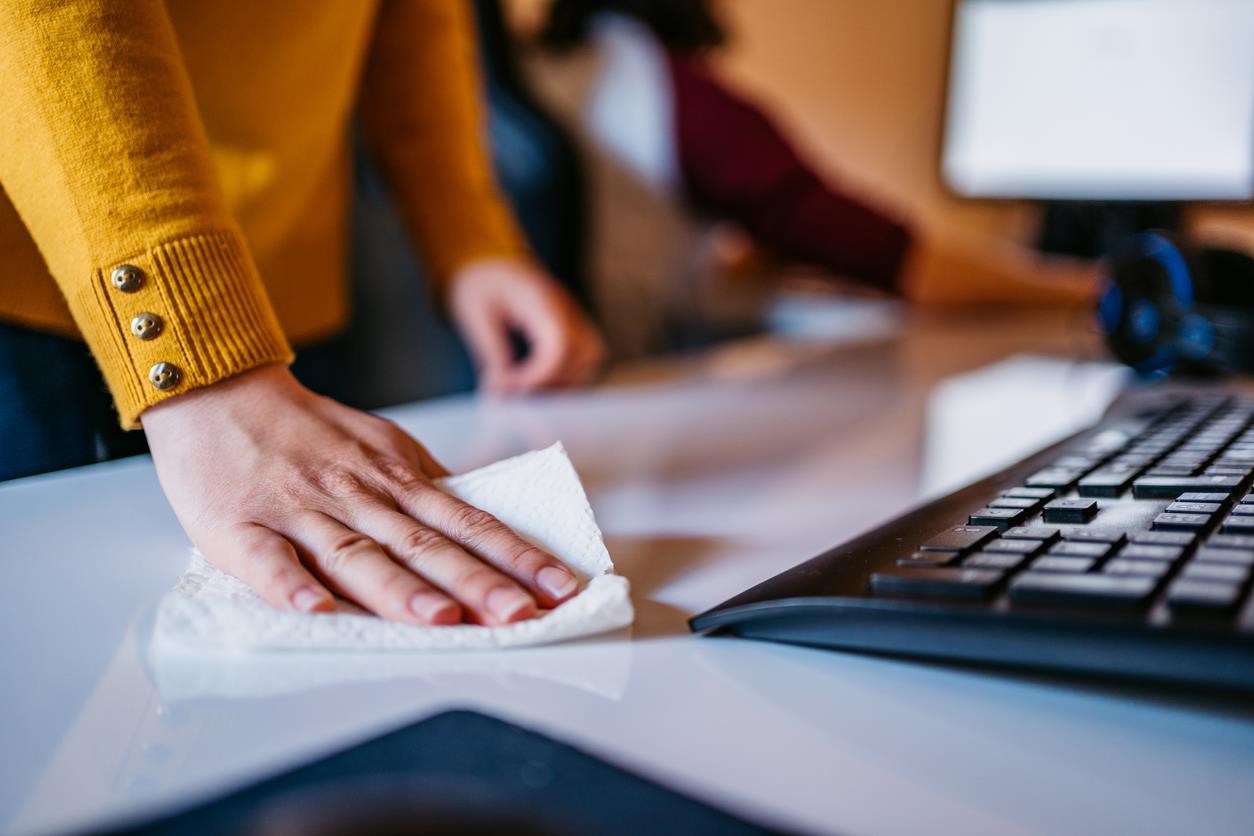 Awareness of how germs or viruses may spread, and the importance of sanitization has increased now more than ever. Office spaces are necessary for many companies in order to fully-function yet are also very public spaces. Below, we've pulled together information on how to help protect your personal workspace or office.
Sanitization of General Office and Communal Spaces
Clean Communal Areas
While most, if not all, offices have sanitization workers that clean communal areas hourly, daily or weekly it is also our responsibility to clean up any messes we have created ourselves. When you spill something, wipe it up, and if you go to the washroom, wash your hands before touching anything else within the office.
Bathrooms and kitchens tend to be the most active communal areas. There are many places where wiping down before and after use may be something to pay attention to. Things that can be wiped down include doorknobs, cabinet handles, refrigerator or microwave door handles, microwave buttons, and so on. If you choose to eat within a communal area, wipe down the area before leaving so it is clean for the next person.
Avoid Coming to Work Sick or Those Who are Sick
There are many people who will come into work while sick, especially if their current symptoms appear mild. However, this affects everyone and everything they are in contact with in the office. If you or someone you know in the office is sick, please be encouraged to stay home or advise others to stay home. If you know that someone in your office is experienced symptoms, try to avoid close contact with them. If you are a manager, encourage your employees to take a sick day or work from home even when symptoms appear mild.
Keep your Hands Clean and Avoid Touching your Face
It easy to go about your day, touching many things in the office and then your face. The problem is that in the office, many other people have also touched these objects before you and after you. At a minimum, wash your hands after using the bathroom and before eating.
Don't Overuse Antibacterial Products
It can be easy to go overboard on the antibacterial products. Some use them as a replacement to washing your hands. However, to date, the benefits of using antibacterial hand soap haven't been proven. According to the U.S. Food and Drug Administration (FDA), there isn't enough science to show that antibacterial soaps are better at preventing illness than washing with plain soap and water.
Avoid Communal Foods
Communal foods may be tempting, yet tricky. While you may be taking the necessary precaution to avoid touching the other food around, not everyone may be taking such precaution. If you are going to take part in eating any communal foods, ensure that they have maintained a certain level of sanitization. Please also respect the fact that others will be consuming the food left after you have taken your turn.
Use a TruSens Air Purifier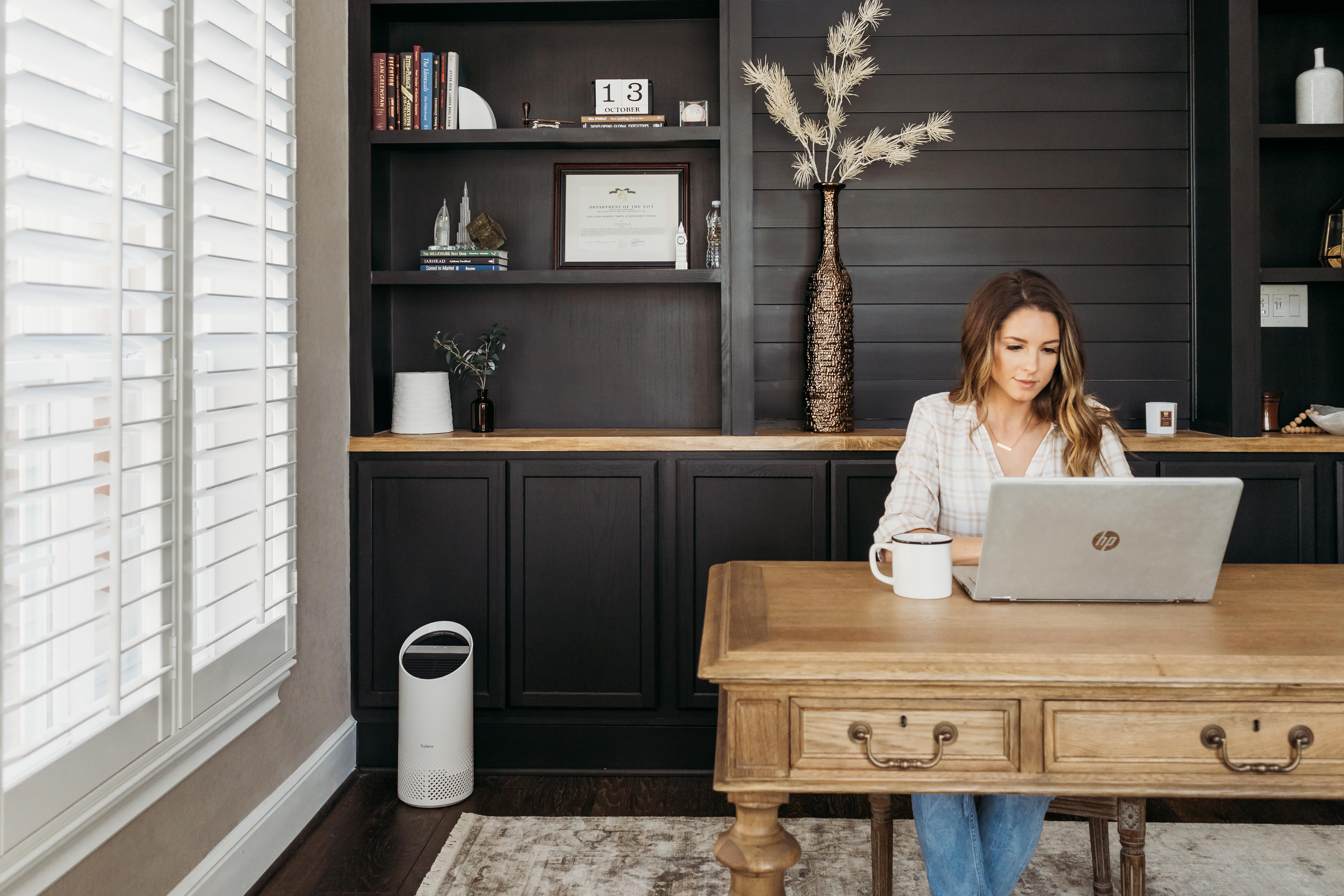 Generally, office buildings do not have open windows or doors, and any mechanical air systems have a large space to cover. Whether a person's work is done in a larger or smaller space, there is a potential for several types of air pollutants to be present in the air. Depending on the specific space, these pollutants may range from allergens such as dust, pollen, and mold to chemicals such as volatile organic compounds (VOCs) found in cleaning products or paint fumes.
TruSens Air Purifiers were developed with both performance and design in mind. The award-winning design blends perfectly into any space, while the product's unique features go above and beyond the average air purifier. These features work together to reduce air pollutants in the space and deliver cleaner air to those present. 
Features, such as PureDirect dual airflow and SensorPod remote air quality monitor, are unique to TruSens Air Purifiers. Some air purifiers can leave rooms with dead zones. TruSens PureDirect dual airflow uses two streams to minimize dead zones and deliver purified air effectively throughout a room, and in some cases, has been proven to be up to 24% more efficient than traditional air purifiers with only a vertical airflow. The remote SensorPod air quality monitor senses pollutants across the room. TruSens Air Purifier reacts to the SensorPod reading and adapts to clean the air. During this, an LED display at the front of the air purifier alerts users to changes in air quality and a color-coded ring with a number indicating that change. The latest line of TruSens Smart Air Purifiers includes additional features such as compatibility to the TruSens App, an enhanced SensorPod, and works with Alexa voice commands. 
How to Disinfect Surfaces in a Personal Workspace
Sanitization around the entire office is generally handled by an office as a whole and the sanitation workers. While sanitation workers generally work to clean the entire office, they have a lot of space to cover. It's important to take ownership in disinfecting your personal workspace regularly. Below we've listed some of the items and ways to maintain a cleaner personal workspace.
Disinfecting A Desk
Desks can quickly build up a layer of dust, crumbs and germs. Each day at work we are constantly touching our desk, putting objects on it, and maybe even eating or sneezing on it. No matter what you do at your desk, it is it important to regularly clean it off. Even if you don't touch your desk, a layer of dust may start to form. Depending on the type of desk you have, you can wipe it off with disinfectant wipes, a cloth dampened by water or using cleaning products and a towel. When cleaning your desk, don't forget to take any objects or clutter off before thoroughly wiping it down everywhere.
Dusting A Keyboard
External keyboards should be unplugged or shut off before cleaning begins to avoid hitting any keys. Keyboards attached to a laptop should be handled with extra precaution since they sit atop of the electric components of the computer. After the keyboard or laptop has been turned off, flip the keyboard over and shake out any loose crumbs or debris. To clean dust off, use a combination of compressed air to blow any loose or off, and a wipe or towel to wipe the rest.
Wiping Down Screens
The screen on your monitor collects dust overtime, creating the need to be cleaned. Before cleaning your screen, turn the monitor off. Using a microfiber cloth is the safest and most effective way to clean your screen. You may use a little water to make the cloth damp. However, the cloth should never be soaked, or water sprayed directly on the screen. Never use liquids other than water, unless specified as safe for use on screens.
Using a Kensington Spill-Proof and Wipe Down Protected Keyboard and Mouse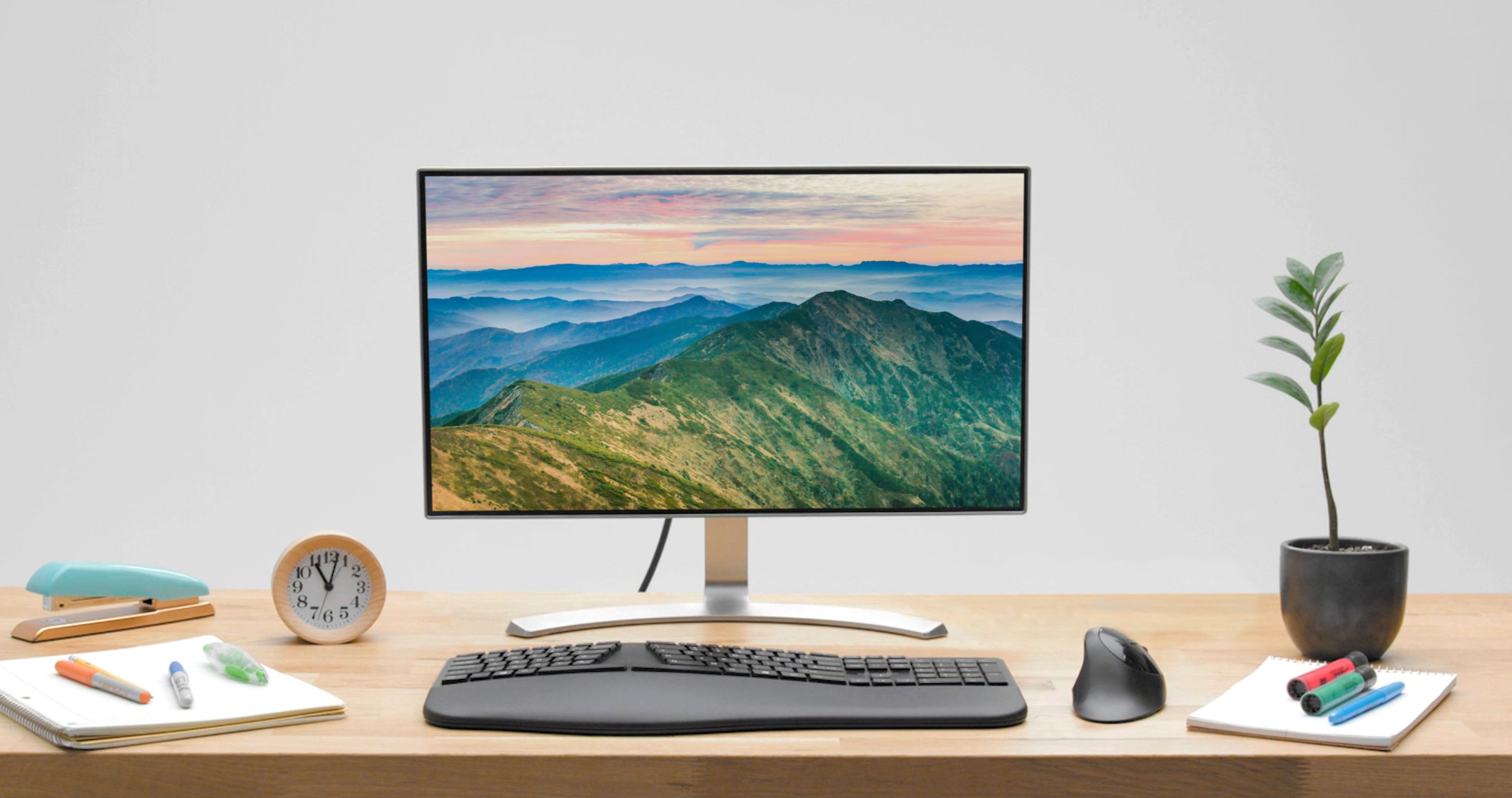 The Kensington Pro Fit® Ergo Wireless Keyboard and Mouse is easily kept clean, with spill-proof keys and wipe down protection. Kensington ensures cleanliness without worrying about damaging your office equipment. Using certain chemicals to clean office equipment, tools, and other devices may result in degradation or deterioration, depending on the materials they are made of. At Kensington, they understand that this is a concern for customers. That's why their Pro Fit® Ergo Wireless Keyboard has been subjected to MIL-STD 810H Method 504.3 Contamination by fluids testing. This is a Military Standard in the United States, enforced by the Department of Defense (DoD) to certify that a product is durable, sustainable, and reliable.
Cleaning A Computer Mouse
Other than keyboards, a mouse is one of the objects we touch the most while in the office. If you notice that your mouse has been less responsive or erratic, it may be time to clean it. Like the keyboard or monitor, unplug or disconnect your mouse before cleaning.  To clean the mouse, spray a neutral detergent or diluted alcohol on a microfiber cloth, wiping down the device and drying immediately. Make sure not to leave excess moisture on the device to avoid moisture finding its way into any internal electronic components. Due to this, we recommend never using a spray directly on the mouse. Next, examine the sensor to see whether this is dust or debris that has built up. If it has, gently use the corner of the microfiber cloth to wipe it away. Finally, repeat these steps on any accessories, like a mousepad.
Sanitizing A Work Phone
Phones are a central spot for germs and dust as we touch them, talk into them and let them sit out on our desks. To fully disinfect your phone, ensure you are wiping down any screens, buttons, ear or mouth pieces, and cables or wires. Each of the pieces can be sanitized by wiping them down with a well-wrung disinfectant wipe.
Reducing Clutter
Clutter tends to pile up quickly on a work desk. Not only does clutter make it more difficult to clean the rest of your desk and supplies, but it attracts more dust. Therefore, the more consistent you are with clearing any clutter the easier a cleaner desk is to maintain.
Conclusion
Disinfecting and keeping a sanitized work environment is key to maintaining your health and safety. Regularly cleaning the spaces you work in may provide preventative measures to catching illnesses, worsened allergy symptoms and more. These practices are important year-round as colds, viruses, or allergens are consistently present in the air and environments we are in.