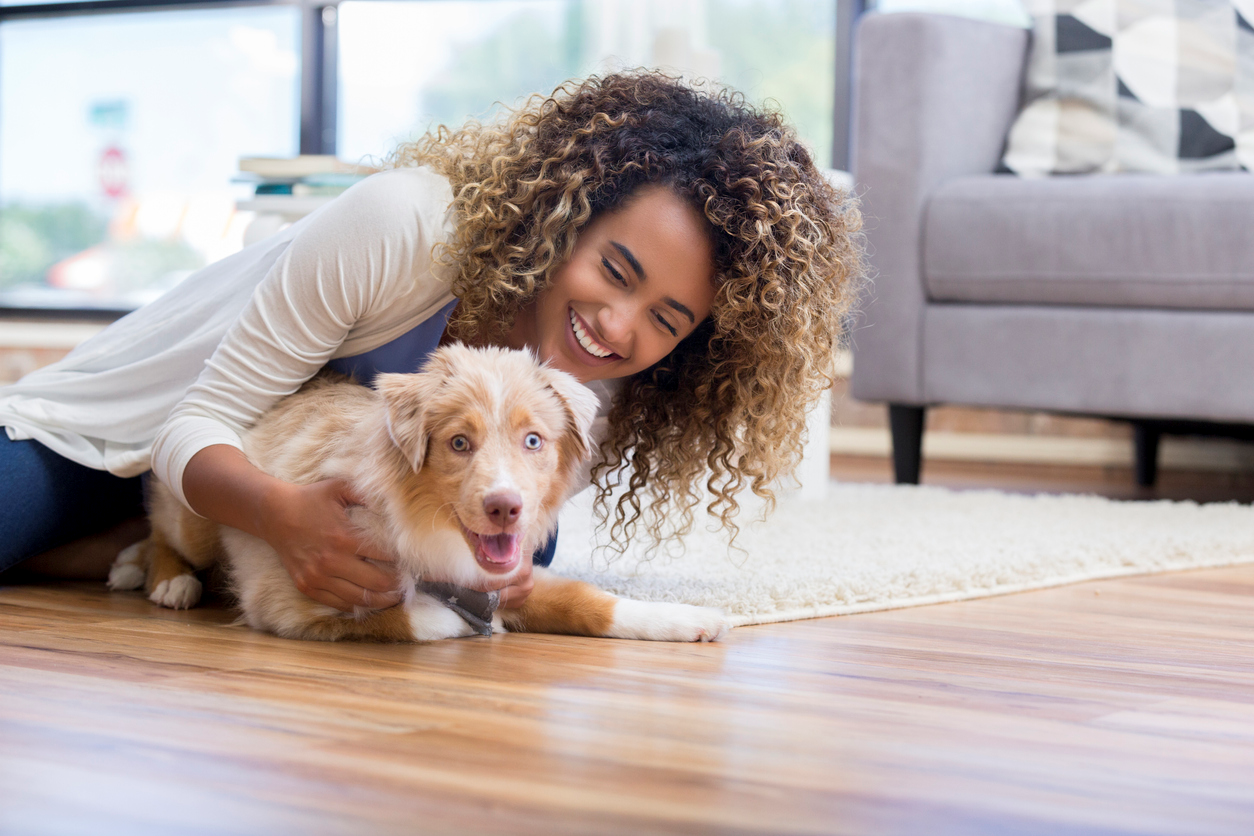 Taking care of a pet can be a lot of work. Technological advances in pet products have made the lives of pet owners easier. Pet owners may not purchase the upgrades for themselves, so these products can make for perfect gifts.
1. Air Purifier
Air purifiers benefit both pets and their owners. The reduction of pet hair, dander, and odors from the air will help to improve the overall indoor air quality that both pets and owners are breathing in each day. This gift is especially great for pet owners that also have an allergy to their pets, as the air purifier reduces airborne pet allergens.
TruSens Air Purifiers specifically offer a Specialty Pet Filter for every size air purifier. TruSens also offers Smart Air Purifiers. The Z-2500 and Z-3500 Wi-Fi ® enabled Air Purifiers work with Alexa device voice commands, and are compatible with the TruSens Smart App. 
2. Smart Pet Feeder
For pet owners who are on the run, are forgetful, or have a pet on a diet, a smart pet feeder is a perfect gift. Smart pet feeders will automate your pet's meals. This device allows pet owners to put their pets on a customized feeding schedule. The smart pet feeder can measure out these portions of food. Smart pet feeders also connect to other smart devices so the owner can keep track of when their pet is fed or make real-time updates to what the feeder needs to do. For example, the feeder can be set to release food from the owner's smart phone.
3. Smart Collar
Pet owners understand the importance of having their address on their pet's collar, especially for pets that spend time outdoors, and now smart collars make it even easier. If a pet runs away or is lost, the address on the collar will confirm their identity and display where the pet is meant to be returned. With smart collars, built-in GPS trackers allow owners to find their lost pets easily.
In addition to a GPS tracker, some smart collars have built-in LED light and sound to help with training, and some monitor the pet's activity and make customized recommendations.
4. Automatic Ball Launcher
Give pet owners a break­–and pets never-ending fun– with an automatic ball launcher. This gift is especially useful for owners with energetic pets. The device does exactly what the title implies. The owner simply turns on the launcher, a ball is launched, and the pet retrieves the ball and drops it back into the machine. Of course, this will take a little bit of training.
5. Smart Pet Door
The biggest feature of smart pet doors is that they give pets the ability to enter and exit the home without assistance, but under the owner's terms. The pet's collar has a microchip in the collar that signals the door when it approaches.
Smart pet doors also provide more security than a traditional pet door through an app. If the owner doesn't want their pet to exit the house at a certain time or would like the door to be locked so other creatures don't enter the home, they can do so through an app. This ability provides peace of mind to the owners that their pets as well as their homes are secure.
6. Smart Pet Leash
Multitasking while on a walk may be a struggle, especially for pet owners with pets that are bigger than themselves. Smart leashes make it possible for pet owners to multitask while walking their pet. The leashes come equipped with lights, which are perfect for a night stroll. These leashes will also connect to a smart phone, allowing pet owners to track walks, receive notifications, and play music through the leash all at once.
7. Wearable Camera for Pets
In recent years, wearable cameras have become a popular way to record memories from the perspective of the person wearing the camera. Now, there are wearable cameras for pets. Pet owners can use these cameras to see the world from their pet's perspective.
8. Pet Treadmill
Pet treadmills are perfect for the days it's too hot or cold outside or the pet owner just doesn't feel like going on a walk. Pet treadmills ensure that the pet still gets its daily exercise while eliminating work for the pet owner.
9. Pet Cameras
For those who work full-time away from their pets or want to be able to check in whenever they can, the pet camera gives them that opportunity. Pet cameras allow owners to see and chat with their pets, even when they're not home.
Features vary based on the pet camera purchased, but there are several benefits available in addition to the camera. Some pet cameras include features such as treat tossing, barking sensors and alerts, phone connectivity, night vision, and motion detection.
10. Self-Cleaning Litter Box
The key benefit of a self-cleaning litter box is that the pet owner doesn't have to clean out the litter box as often. These litter boxes use sensors to detect when a cat has used it. Once the box has sensed that a cat has used it, it will sift out the waste and store in in a waste receptacle. The only work the owner will have to do is empty out the waste receptable regularly and go through regular cleaning and maintenance.
Some of these litter boxes will connect to an app through a smart phone that will notify the owner when the waste receptacle is full and monitor when a cat uses it, health issues, and status updates. While the boxes are made to sift out litter once a cat is finished, some can be put on a timer to sift regularly.
11. Self-Cleaning Fish Tank
Cleaning a fish's tank is an important part of taking care of a pet fish, however, this constant responsibility may make some people shy away from having a pet fish. For those who have or want a fish, self-cleaning tanks provide the owner with less work than typical tanks.
Some self-cleaning tanks also include plant life on top. The plants will use the waste in the water as fertilizer to grow, and the plants will act as a natural water filter. With these tanks, it's important to choose the correct plants and keep up with proper maintenance.
12. Automatic Cat Laser
Unlike traditional laser pointers, automated lasers require minimal work for the owner.  An automated laser will keep cats entertained for hours, freeing up the owner. As a bonus, this will most likely tire out their pet too.
Summary
Technology continues to advance in the benefit of both pets and pet owners. These pet tech products make for perfect gifts for the pet owners in your life.
In summary, pet tech gifts for pet owners we love this year are the following:
Smart Pet Feeder
Smart Collar
Automatic Ball Launcher
Smart Pet Door
Smart Pet Leash
Wearable Camera for Pets
Pet Treadmill
Pet Cameras
Self-Cleaning Litter Box
Self-Cleaning Fish Tank
Automatic Cat Laser