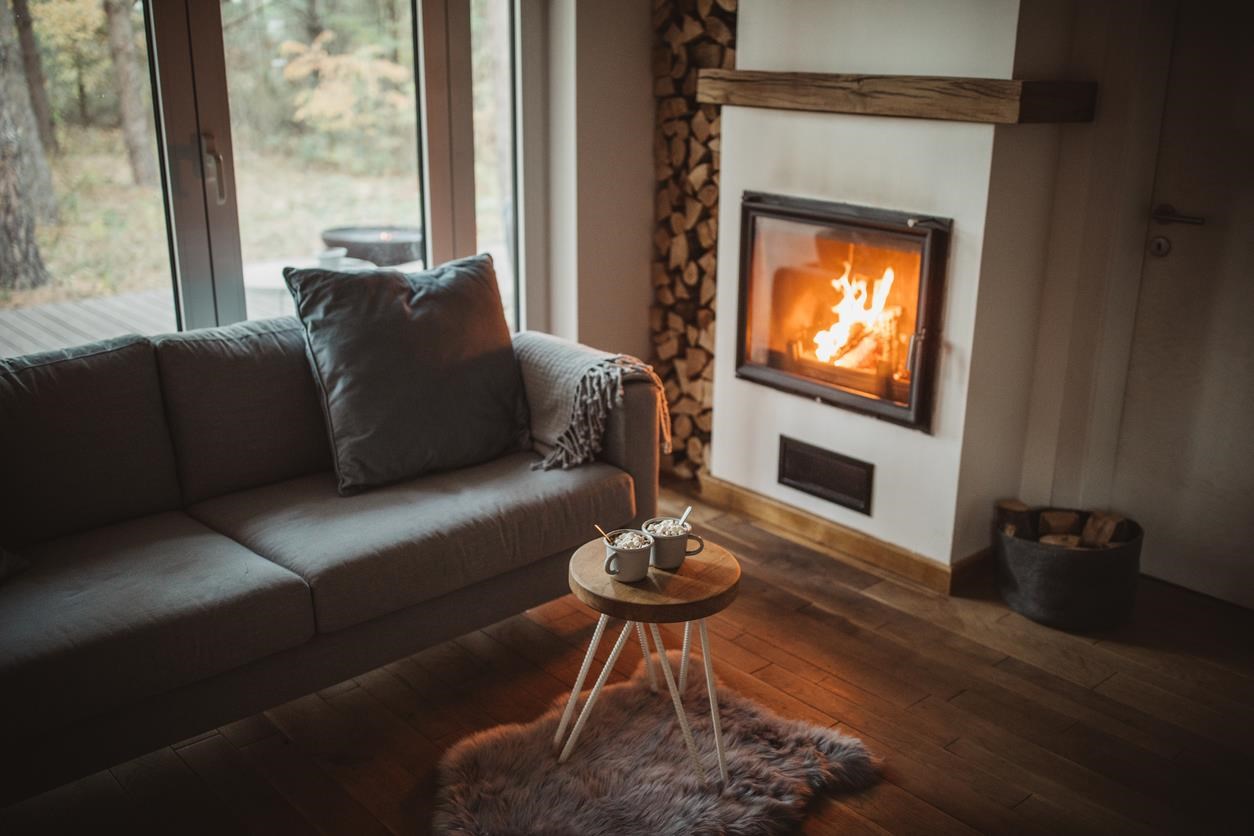 The days are shorter, and the weather is at its coldest. While the holiday season may help to take your mind off of the long winter season, these products will help you make the most of increased time spent indoors.
1. Air Purifier
When spending more time indoors, it's important to be aware of the indoor air quality in your home, because you'll be breathing more air in your indoor space. With decreased ventilation and increased indoor activities, there is potential for a variety of airborne pollutants to be present in your indoor air.
Examples of these indoor activities include using woodburning fireplaces which release smoke air pollutants, or chemical cleaning products, which release volatile organic compounds (VOCs). TruSens Air Purifiers help to remove airborne pollutants in your indoor air. Learn more about TruSens Air Purifiers here.
2. Heated Blanket
One of the best ways to get cozy during the winter is by wrapping yourself in a warm blanket. Typically, the blanket becomes warm by cuddling up in it, but heated blankets do all the work for you. Most heated blankets have adjustable heat settings to set them at your preferred temperature.
3. Space Heater
If your indoor space is too cold and a fireplace is not an option, consider a space heater. Space heaters provide more direct heat than the vents throughout your home and eliminate some of the hassle of using a fireplace. This is helpful if you tend to occupy one space for most of your time. A space heater will help to target that specific space.
4. Slow Cooker
Slow cookers are often used for warm and comforting meals such as soup or chili. These meals are perfect for staying warm during the winter months. Using a slow cooker to cook these meals may also leave a lingering scent of the warm food throughout the day.
5. Humidifier
Winter months may leave your indoor air feeling dry. Humidifiers help to add moisture to your indoor air, preventing overly dry indoor air. Most humidifiers are made for single room use only. This means that, like the space heater, the humidifier will specifically target the air in one room or singular space in your home. There are also humidifiers that can be hooked up to your home's heating system, providing humidified air throughout your home.
6. Smart Thermostat
In the winter, you want to have a balance when it comes to setting a temperature on your thermostat. A smart thermostat provides increased control and assistance, so that it's not overly heated when no one is home and is a nice temperature when you return. This helps reduce energy consumption, which is good for the environment as well as your energy bill.  
Some smart thermostats also have sensors that are placed in the basement or crawlspace. These sensors' job is to alert your thermostat that it is too cold for the pipes in your home. The thermostat raises the temperature through the heating system, and prevents pipes from freezing, even if you are out of town.
7. Slippers
One of the best ways to ensure your feet don't get cold in the winter months are slippers. Slippers are usually made with a thick, fuzzy interior to insulate your feet. These are an inexpensive way to keep your feet warm all winter long.
8. Moisturizer
Moisturizer is an obvious, yet important product during the winter season. During the winter, your skin can get very dry. Moisturizer can be used in both preventive and healing ways when it comes to dry winter skin.
9. Coffee Maker
Depending on the coffee maker you purchase, these machines now have the ability to make more than a plain pot of coffee. A coffee maker can make different types of coffee, tea, or hot chocolate to keep you warm throughout the winter.
10. Smart Mug
To prevent your hot drinks from getting cold, use a smart mug. These mugs come with a heating feature to keep your drink at the perfect temperature. Smart mugs pair with your smart device, such as a phone, in order to control and track when the mug is on, the temperature, and customize any featured benefits.
11. Towel Warmer
A hot bath or shower may feel amazing in the winter but getting out can be rough. A towel warmer does exactly as its name implies, warms your towels. These machines ensure that when you step out of a warm bath or shower, you'll remain warm, wrapped in your towel. This gives a spa-like experience from the comfort of your home all winter long.
Being Cautious of Products in Use
Certain products listed are not made to be used at the same time or necessarily in the same room. Please follow each manufacturer's instructions for any products you purchase and plan to use in your home.
Summary
Winter months may directly lead to increased time spent indoors. To make the most out of the season, there is a plethora of products to purchase. Focusing on the products that are used indoors, this is a cumulative list of what we recommend.
Air Purifier
Heated Blanket
Space Heater
Slow Cooker
Humidifier
Smart Thermostat
Slippers
Moisturizer
Coffee Marker
Smart Mug
Towel Warmer